Beyonce – Formation World Tour
The Beyonce Formation World Tour is well under way and coming to a city near you.
At the time of writing there will be a further 34 shows in various cities around the US and the tour will wrap up in Nashville Oct 2 2016.  TicketListers have No Service Fee tickets to all shows.  If you're a Beyonce fan, the show is a must see.  Dates for all concerts, cities where shows will be held and available tickets, can be found here – Beyonce – The Formation World Tour
We've put together a couple of reports below to give you further details on her new album, The Formation World Tour and other bits and pieces.
The Huffington Post Reports
Beyoncé kicked off her highly anticipated Formation World Tour in Miami Wednesday night and as expected, she suited up appropriately (and literally).
The queen slayed in exclusively bodysuits that matched her backup dancers. Her five looks included playful prints, latex, sky high boots, a regal custom costume by Roberto Cavalli, one huge hat and more. This particularly intricate, lacy white number merged two fashion powerhouses, Bey and Balmain creative director Olivier Rousteing: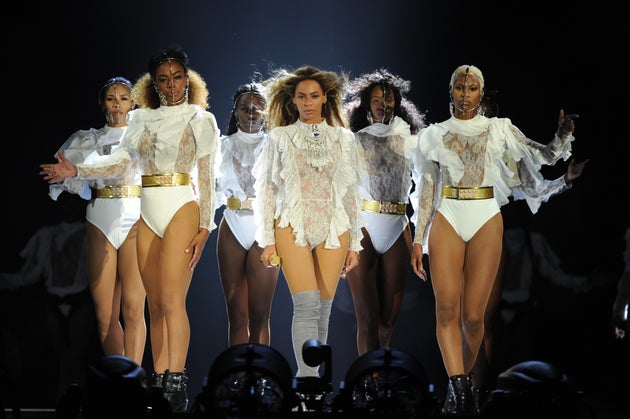 "The Balmain army becomes the Beyoncé army. I love it when my couture meets music," he told WWD.
Much speculation has surrounded all aspects of the tour since it was announced in February, and fans were certainly not disappointed.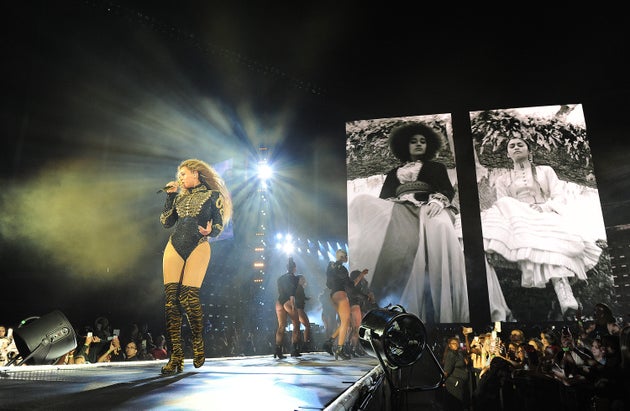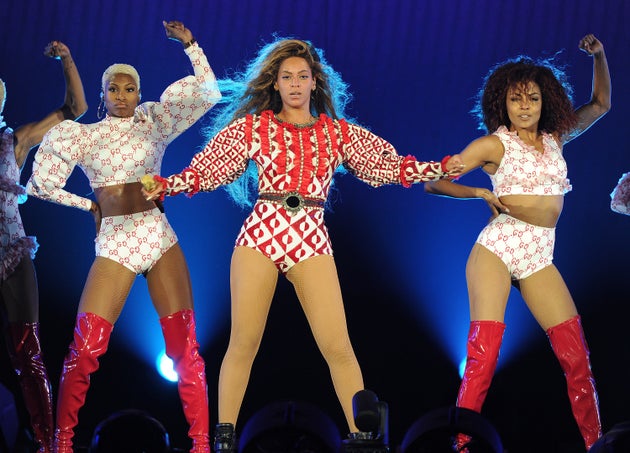 But aside from the sheer entertainment value, Bey really knocked it out of the park in her costume changes. We haven't been this excited about her outfits since, well, Saturday, seeing that yellow dress from "Lemonade."
Case in point: this red, ruffled latex number.
Not to mention the hat to end all hats:
Here's to many more months of Beyoncé, bodysuits and Balmain.
Read more: http://www.huffingtonpost.com/2016/04/28/beyonce-formation-tour-costumes-bodysuits_n_9794182.html
The Guardian Reports
'Beyonc is not a woman to be messed with' Lemonade review
Beyoncs imperious sixth album sees her turn her attention to her marriage, with witheringly powerful results.
Dishearteningly billed as a conceptual project based on every woman's journey of self knowledge and healing a description that makes it sound like something agonisingly earnest you'd go out of your way to avoid at the Edinburgh Fringe Beyoncs sixth solo album touches on a lot of potent topics. Quite aside from the presence of her much-discussed single Formation, a meditation on race that originally appeared in the middle of Black History Month, there are lyrical references to slavery, rioting and Malcolm X and a ferocious guest appearance by Kendrick Lamar that jabs at Fox News and police brutality and ends with something approaching a call to arms.
In an era when pop doesn't tend to say a great deal, there's obviously something hugely cheering about an artist of Beyonces stature doing this: she increasingly seems to view her success and celebrity as a means to an end rather than something to be maintained at all costs. Nevertheless, Lemonade is an album less about politics than something more personal. It's more preoccupied with the state of her marriage than it the state of the world, overshadowed by her husband Jay Zs alleged infidelity. If you want to compare her to an old soul legend, its more Here, My Dear than Whats Going On: for all its brilliance, Formation feels oddly tacked-on at album's end, arriving after All Night, a track that sounds remarkably like a grand finale.
Read more: http://www.theguardian.com/music/2016/apr/24/beyonce-lemonade-review-a-woman-not-to-be-messed-with
More from the Huffington Post
Adele Worships At The Altar Of Beyonce Just Like The Rest Of Us
Adele is a proud member of the Beyhive.
The "Hello" singer took to Instagram on Tuesday to express her love for Beyoncé, writing that she's been late to react to the "Lemonade" singer's stunning visual album because she's been "speechless." (We feel you, Adele.)
"Beyoncé is the most inspiring person I've ever had the pleasure of worshipping," she added. "Her talent, beauty, grace and work ethic are all in a league of their own. I appreciate you so much! Thank god for Beyoncé X." 
Of course, the British songstress has been open about her love for Yoncé before, telling Time magazine, "anyone who knows me knows that my main priority in life outside of my child is Beyoncé."
So, when's that duet coming out?
Read more: http://www.huffingtonpost.com/2016/05/03/adele-worships-at-the-altar-of-beyonce-just-like-the-rest-of-us_n_9833336.html
TicketListers have No Service Fee tickets available for all shows – Click here